M6247 Pants and Skirt that are quick and easy. If I continue on this path, I'll make each piece on this pattern.
These
are from the same pattern.
Because my husband's birthday was coming up and a weekend away had been planned there was plenty time to make this outfit.
Fabric: Black/Charcoal/Silver Metallic Striped Twill Suiting from Fabric Mart. I just love the little sparkles!
Top: Butterick 5890 view C blouse
Adjustments were made to the top which included placing front on fold to remove front seam, enlarge sleeve width 1/2 inch each side, added 2 inches to sleeve length, enlarged pattern one size, and add collar from Vogue 8886.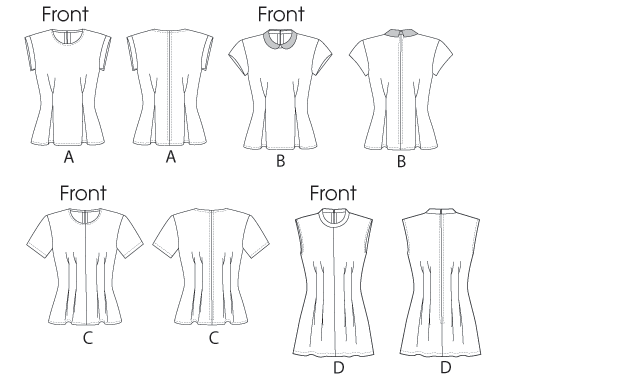 Butterick 5890 Misses'/Misses' Petite Top and Tunic (loose-fitting through bust) has tuck variations, back zipper, and stitched hem on sleeves. I could see this top as a very comfortable dress.
Before leaving for the trip, we were notified of a friend's death so I decided to make a skirt from McCall's 6247. I did have to add five inches to the length.
As time rolls on, I would love to make each item on this pattern. I'm interested to see how that cardigan fits.
Since my hubby like this suiting fabric, I'm obligated to make him a shirt and dress pants with welts. That'll push me to another level.